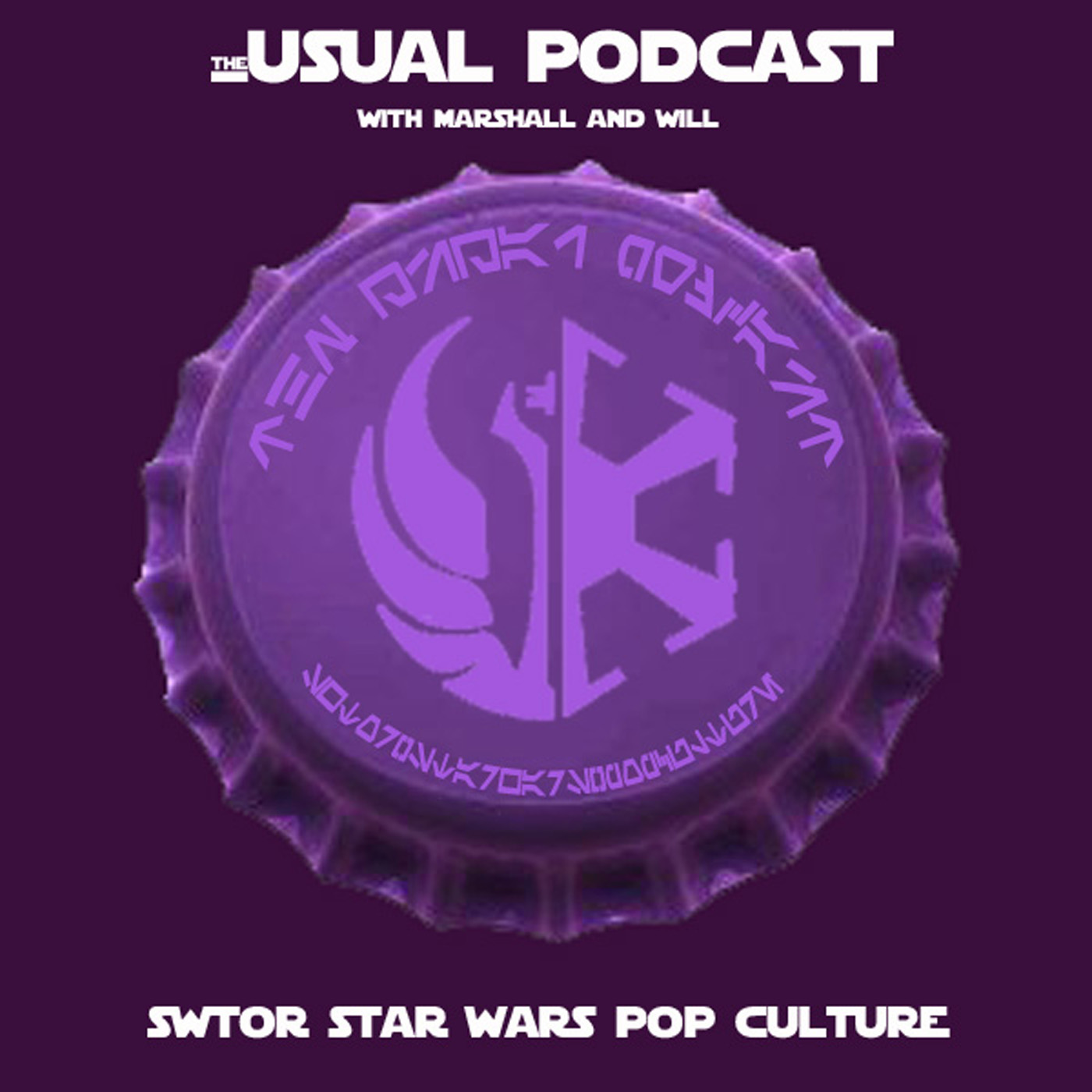 In the Star Wars: The Old Republic section of the show, Marshall and Will discuss their weeks in game, WOG runs, Consular/Inquisitor 4.0 changes, and all of the new 4.0 information from the September 30th livestream.
Links:
The best of what it is to be a WOG is all here in this fine footage
Game Update 4.0 Class Changes: Jedi Consular + Sith Inquisitor
Introducing the SWTOR Answers HQ Page
Tune in to Twitch on September 30th for Knights of the Fallen Empire Gameplay Livestream
SWTOR Refer-a-friend links at theusualpodcast.com on our about page
Podcast Corner - (None this week)
Star Wars Section - (1:14:32)
In the Star Wars section of the show, the guys discuss new The Force Awakens art books and novels, new merchandise coming in December, and rumors of Disneyland park changes and Star Wars Rebels casting.
Links:
New Star Wars: The Force Awakens Novels, Art Books & More Announced
Star Wars Force Friday Toys Were From First Third Of Movie; More To Come
First news of Disneyland closures during Star Wars expansion
Sarah Michelle Gellar Rumored For Princess Leia In Star Wars Rebels
Geek and Pop Culture Section - (1:31:00)
In the geek/pop culture section of the show, the guys discuss new trailers, Counter-Strike heading to TBS, Xbox One holiday bundle, Doctor Who, Fall TV shows they're watching, and so much more!
Links:
Confirmation of Eazy-E HIV rumor?
TBS to air competitive video gaming (Counter-Strike: Global Offensive)
Avengers: Age Of Ultron Honest Trailer
Fast & Furious 8 To Begin Trilogy That Will End The Franchise According To Vin Diesel
Enchanted Sequel Reportedly Called Disenchanted
Kevin Feige Says Marvel Movies Will Reference TV Shows Eventually
More From Jenna Coleman On Her Imminent Doctor Who Departure
New Avengers Team Confirmed For Phase 4 Following Avengers Infinity War
Xbox One Holiday Bundle Includes 35 Games
Outro and Contact Information
If you have comments or questions, you can find us at theusualpodcast.com, email us at theusualpodcast@gmail.com, and find us on Facebook, Pinterest, Google+ and on SWTORNetwork. Marshall is @darthpops on Twitter, and Will is @iamwillgriggs. Please take the time to give us a positive rating on iTunes and Stitcher, and like and share us on the social medias! Use our link to try Audible free for 30 days! Like what we're doing? Become a patron HERE, and show your support.