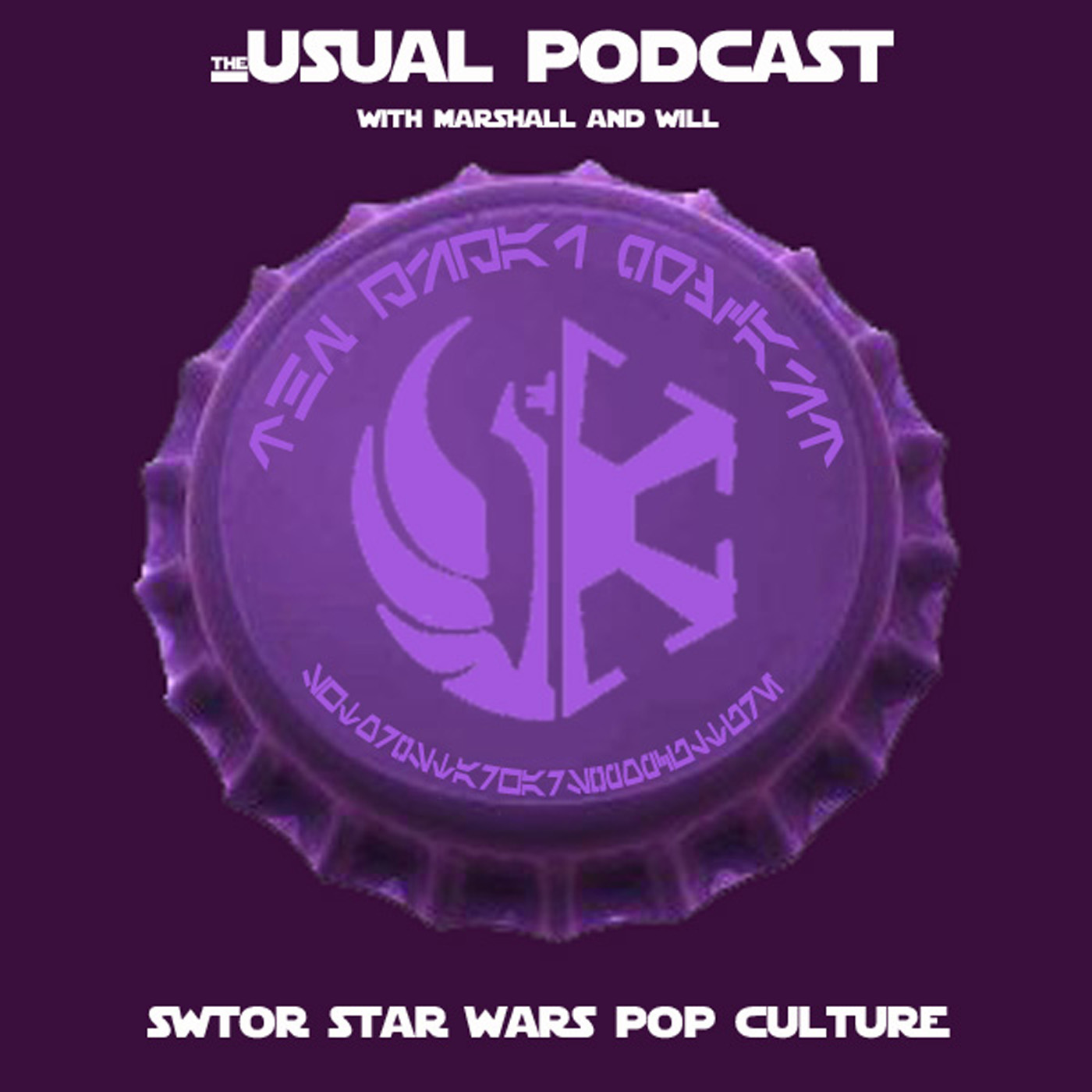 In the Star Wars: The Old Republic section of the show, Marshall and Will discuss their weeks in game, and speculate what might be coming to SWTOR in the future.
Links:
The Absurd Completionist
www.teespring.com/completionist
SWTOR Refer-a-friend links at theusualpodcast.com on our about page
Star Wars Section - (8:42)
In the Star Wars section of the show, the guys discuss Solo news, casting news for Episode IX, and meet Team Fireball.
Links:
Films
Solo
'The Meg' Has Passed 'Solo: A Star Wars Story' at the Box Office
Episode IX
'Lost' Actor Dominic Monaghan Cast in 'Star Wars: Episode IX'
'Star Wars: Episode IX' Adds Matt Smith in Key Role
TV
Resistance
The Usual Round-up - (20:35)
The guys discuss parks news, DC's streaming service release date and pricing, TV/movie news, Marvel/Guardians news, and so much more!
Links:
Discussion
Nearly Half Of MoviePass Customers Are Considering Canceling Their Subscription
A Walk in the Parks
Disney
HISTORIC DISNEYLAND GEMS SOLD FOR MILLIONS OF DOLLARS AT PRIVATE COLLECTOR'S AUCTION
Disney Parks Reveals New Details for Star Wars: Galaxy's Edge
Crossing the Streams
DC Universe
News
DC Universe Streaming Service Release Date and Pricing Revealed
'Constantine' TV Series Confirmed to Be Included in DC Universe
DC Daily
Co-Hosts For 'DC Daily' to Include John Barrowman, Harley Quinn Smith, and More
Titans
'Titans' Release Date Revealed for DC Universe
Doom Patrol
Alexandra Daddario Reportedly Auditioned for 'Doom Patrol' Role
Disney Play
Disney's Streaming Service Gets Its Name as New Details Emerge
Netflix
'Diablo:' Netflix and Blizzard Reportedly Working on New Series
TV Time-What are We Watching?
THE GOOD PLACE CHROME EXTENSION IS FORKING AWESOME
Reel Reviews
Casting
New 'Top Gun 2' Cast Members Revealed
Release Dates
TV
'Game of Thrones' Final Season Possibly Delayed
'Mr. Robot' Confirmed to be Ending with Season 4
Movies
The Russo Brothers' Next Project After 'Avengers 4'
Universal Usual
DCEU
The Batman
Oscar Isaac Reportedly Interested in Mystery Role in 'The Batman'
The Joker
Alec Baldwin Announces Exit From 'Joker'
Supergirl
'Supergirl' Movie Director Top Choice Reportedly Revealed
Disney
Disney Has Won an Injunction Against Redbox
Marvel
News
Gary Friedrich, Ghost Rider Co-Creator, Dies at Age 75
Avengers: Infinity War
'Avengers: Infinity War' Fan Theory Claims One Character Was Killed and Already Brought Back to Life
Avengers 4
'Avengers: Infinity War' Directors Give 'Avengers 4' Update
Blade
Wesley Snipes Confirms Ongoing Marvel Discussions About Future 'Blade' Projects
Guardians
'Guardians of the Galaxy Vol. 3' Production Reportedly Put On Hold
'Thor: Ragnarok' Director Taika Waititi Reportedly Met with Marvel for Mystery Project
What Marvel Movie Will Replace 'Guardians of the Galaxy Vol. 3' in 2020?
Marvel Rising: Secret Warriors
Dove Cameron Sings 'Marvel Rising: Secret Warriors' Theme Song
Sony
Venomverse
Eminem Teases New Song for 'Venom'
Conventions
Judge rules there can only be one Comic-Con
Trailer Time
Outro and Contact Information
If you have comments or questions, you can find us at theusualpodcast.com, email us at theusualpodcast@gmail.com, and find us on Facebook, Pinterest, Google+, Instagram, Twitch, and YouTube. Marshall is @darthpops on Twitter, and Will is@iamwillgriggs. Please take the time to give us a positive rating on iTunes and Stitcher, and like and share us on the social medias! Use our link to try Audible free for 30 days! Like what we're doing? Become a patron HERE, or check out our support us page for more way to show your love.