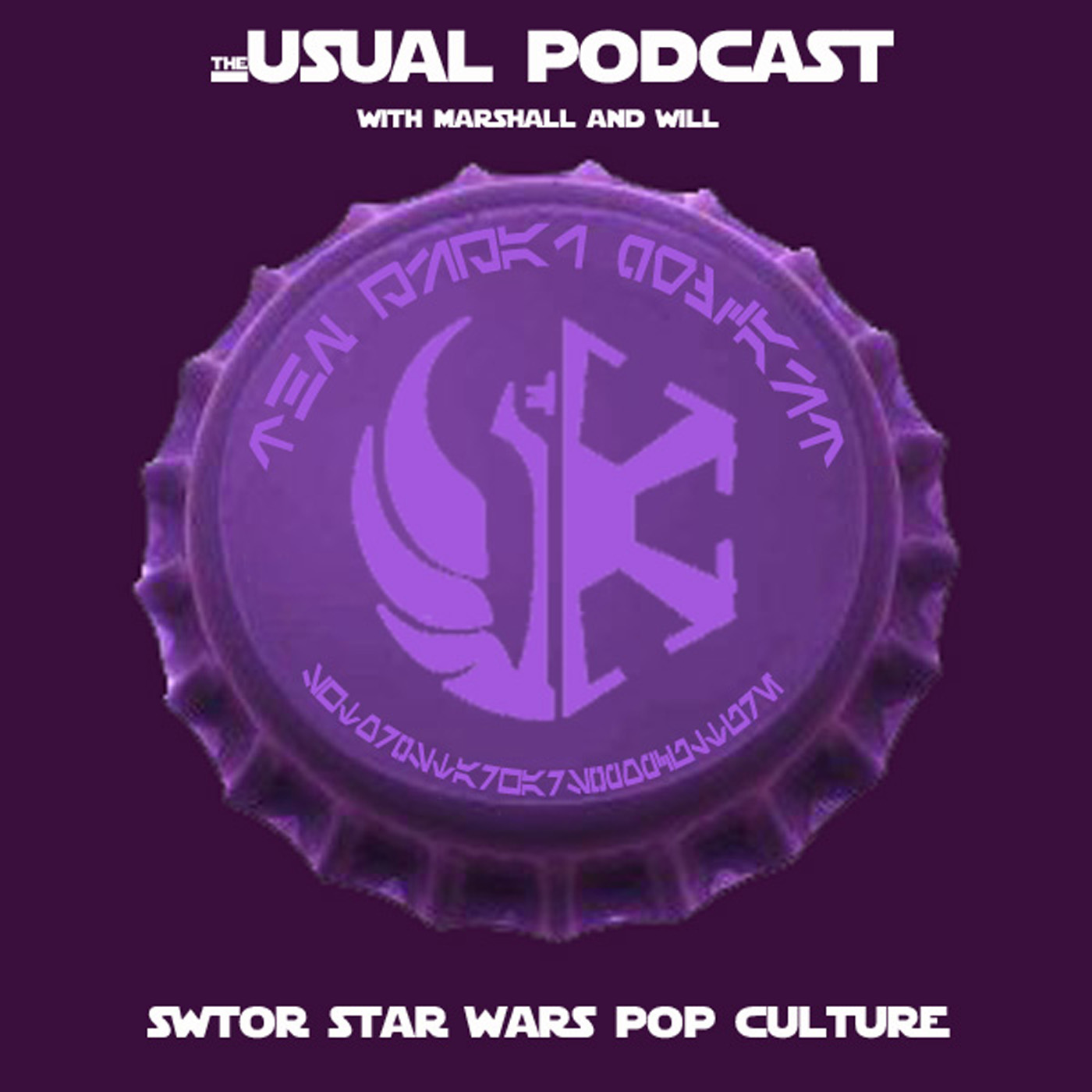 In the Star Wars: The Old Republic section of the show, Marshall and Will discuss the upcoming podcaster raid stream, Game Update 5.9.3, Anthem, and more!
Links:
Community Shout-outs:
November Podcaster Raid Stream!
Community Cantina Tour 2018 in New York Cancelled
News – Dev Tracker
Maintenance: October 2nd, 2018
Game Update 5.9.3: Fame and Fortune
Discussion Topic
Video Game Addiction Is Real And Professionals Aren't Prepared To Help
WAYS TO PLAY ANTHEM BEFORE IT LAUNCHES ON FEBRUARY 22, 2019
SWTOR Refer-a-friend links at theusualpodcast.com on our about page
Star Wars Section - (27:00)
In the Star Wars section of the show, the guys discuss Last Jedi trolls, the live action TV show filming, merchandise, and more!
Links:
Discussion Topics
Star Wars: New Study Suggests "Significant" Amount of 'The Last Jedi' Trolls Are Politicized Bots
Lucasfilm President and Star Wars Producer Kathleen Kennedy Gets Contract Extension
TV
Live Action
New Star Wars TV Series Reportedly Starts Filming Next Week
Resistance
Reportedly Getting Companion Comic Book
Merchandise
Hot Toys Unveils a Bespin Gown Princess Leia Figure From 'Star Wars: The Empire Strikes Back'
The Usual Round-up - (33:40)
The guys discuss gaming, Disney news, Deadpool news, Dark Phoenix, and so much more!
Links:
Gaming
Interview: 'Marvel Puzzle Quest' Celebrates 5th Anniversary In Style
Play 'Assassin's Creed Odyssey' for Free With Google's Project Stream
A Walk in the Parks
Disney
Galaxy's Edge Millennium Falcon Ride Detailed on Target's 'Solo' Blu-ray
Crossing the Streams
Netflix
Netflix to Do a Choose-Your-Own-Adventure Episode of 'Black Mirror'
Hulu
Hulu Kicks Off "Huluween" With All-New Short Films
Amazon
'The Wheel of TIme' TV Series Ordered by Amazon
Reel Reviews
Movies
Female-Driven '21 Jump Street' Spinoff Still in the Works
Vin Diesel Teases Female-Driven 'Fast and Furious' Spin-off
Universal Usual
Disney
Indiana Jones
'Indiana Jones 5' Will Have a Global Scope
Fox
Deadpool
'Deadpool' Christmas Movie Title Reportedly Revealed
X-Men
'Dark Phoenix' Director Reveals Why the Release Date Was Pushed Back
Wizarding World
Rumor: New 'Harry Potter' Video Game Footage Leaks
SDCC
SAN DIEGO COMIC-CON 2019 RETURNING REGISTRATION DATE SET
Trailer Time:
Fantastic Beasts: The Crimes of Grindelwald
Spider-Man: Into the Spider-Verse
Outro and Contact Information
If you have comments or questions, you can find us at theusualpodcast.com, email us at theusualpodcast@gmail.com, and find us on Facebook, Pinterest, Google+, Instagram, Twitch, and YouTube. Marshall is @darthpops on Twitter, and Will is@iamwillgriggs. Please take the time to give us a positive rating on iTunes and Stitcher, and like and share us on the social medias! Use our link to try Audible free for 30 days! Like what we're doing? Become a patron HERE, or check out our support us page for more way to show your love.