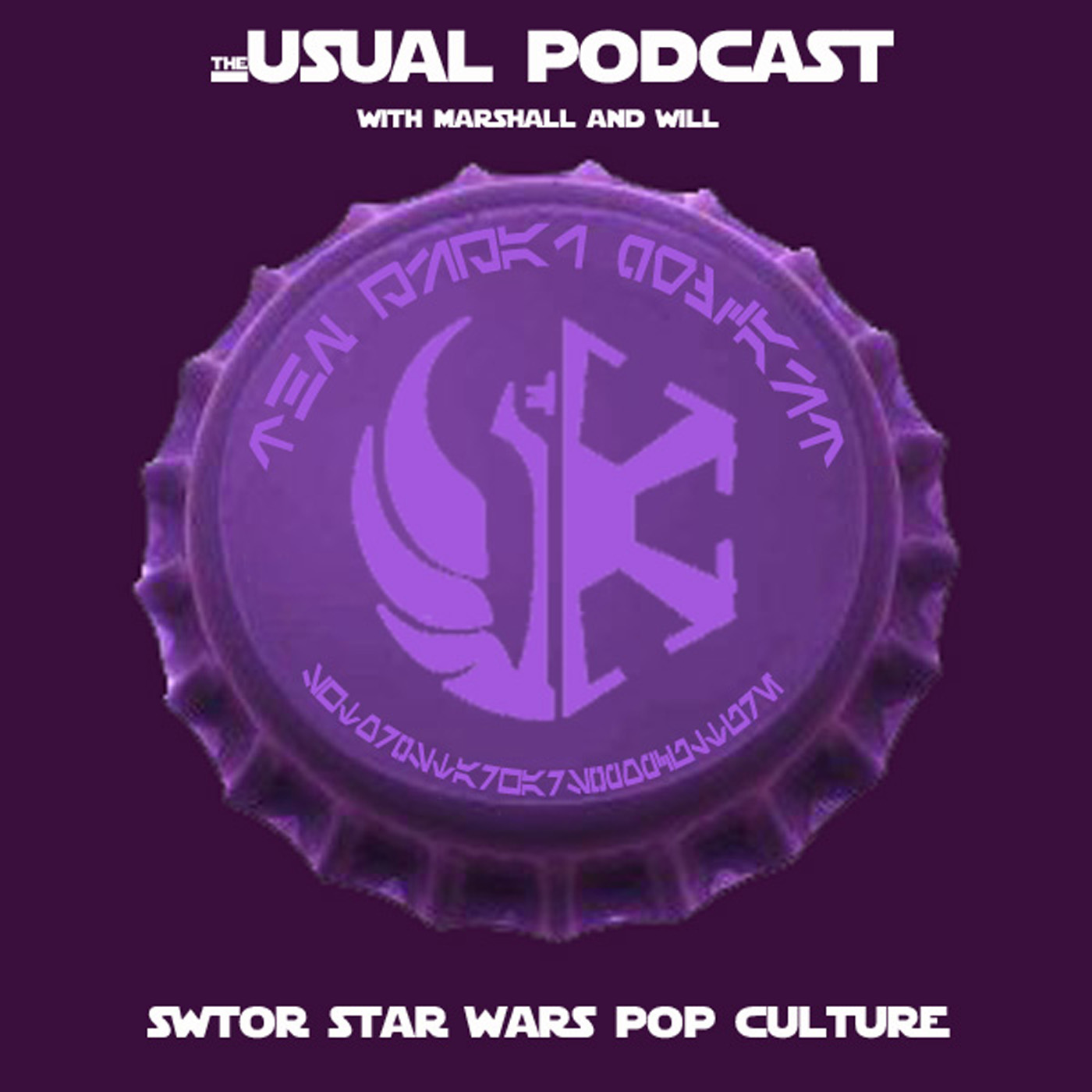 In the Star Wars: The Old Republic section of the show, Marshall and Will discuss SWTOR Unite, the latest developer livestream and more!
Links:
Community Shout-outs:
BioWare: Community Coordinator
News – Dev Tracker
List of Gods from the Machine balance changes for 5.10
How To Get Geared Up and into Gods from the Machine on PTS!
Augments and kits vendor hidden requirement?
Discussion Topic
SWTOR Refer-a-friend links at theusualpodcast.com on our about page
Star Wars Section - (16:05)
In the Star Wars section of the show, the guys discuss the controversy around Chuck Wendig, and Star Wars Resistance news.
Links:
Discussion Topics
Chuck Wendig
'Star Wars' Comic Writer Says Marvel Fired Him for Social Media Behavior
Chuck Wendig's 'Shadow of Vader' Star Wars Series Has Been Pulled From Marvel's Schedule
TV
Resistance
'Star Wars Resistance' Will Overlap With 'The Force Awakens'
The Usual Round-up - (35:10)
The guys discuss streaming service news, what they're currently watching, Venom, Disney news, Guardians of the Galaxy delay, and so much more!
Links:
A Walk in the Parks
Disney
Freeform Special
"Decorating Disney: Halloween Magic"
Crossing the Streams
Netflix
Iron Fist
'Iron Fist' Cancelled at Netflix, No Season 3 Coming
OITNB
Netflix Hit 'Orange is the New Black' To End After Season 7
Amazon
Wheel of Time Picked Up By Amazon, First Season to Focus On Moiraine
Reel Reviews
Casting
Cats
Idris Elba Joining 'Cats' Movie With Taylor Swift
News
Mistborn?
'Mistborn' Author Wants CD Projekt RED to Make His Game
World War Z 2
World War Z 2 To Shoot With David Fincher And Brad Pitt In 2019
Quiet Place 2
John Krasinski Confirmed He's Now Writing 'A Quiet Place' Sequel
Universal Usual
DCEU
Suicide Squad 2
James Gunn To Write And Maybe Direct Suicide Squad 2
Disney
A LILO & STITCH LIVE-ACTION REMAKE IS COMING
Marvel
GotG3
'Guardians of the Galaxy Vol. 3' Production Reportedly Pushed Back to 2021
SMod
Outro and Contact Information
If you have comments or questions, you can find us at theusualpodcast.com, email us at theusualpodcast@gmail.com, and find us on Facebook, Pinterest, Google+, Instagram, Twitch, and YouTube. Marshall is @darthpops on Twitter, and Will is@iamwillgriggs. Please take the time to give us a positive rating on iTunes and Stitcher, and like and share us on the social medias! Use our link to try Audible free for 30 days! Like what we're doing? Become a patron HERE, or check out our support us page for more way to show your love.