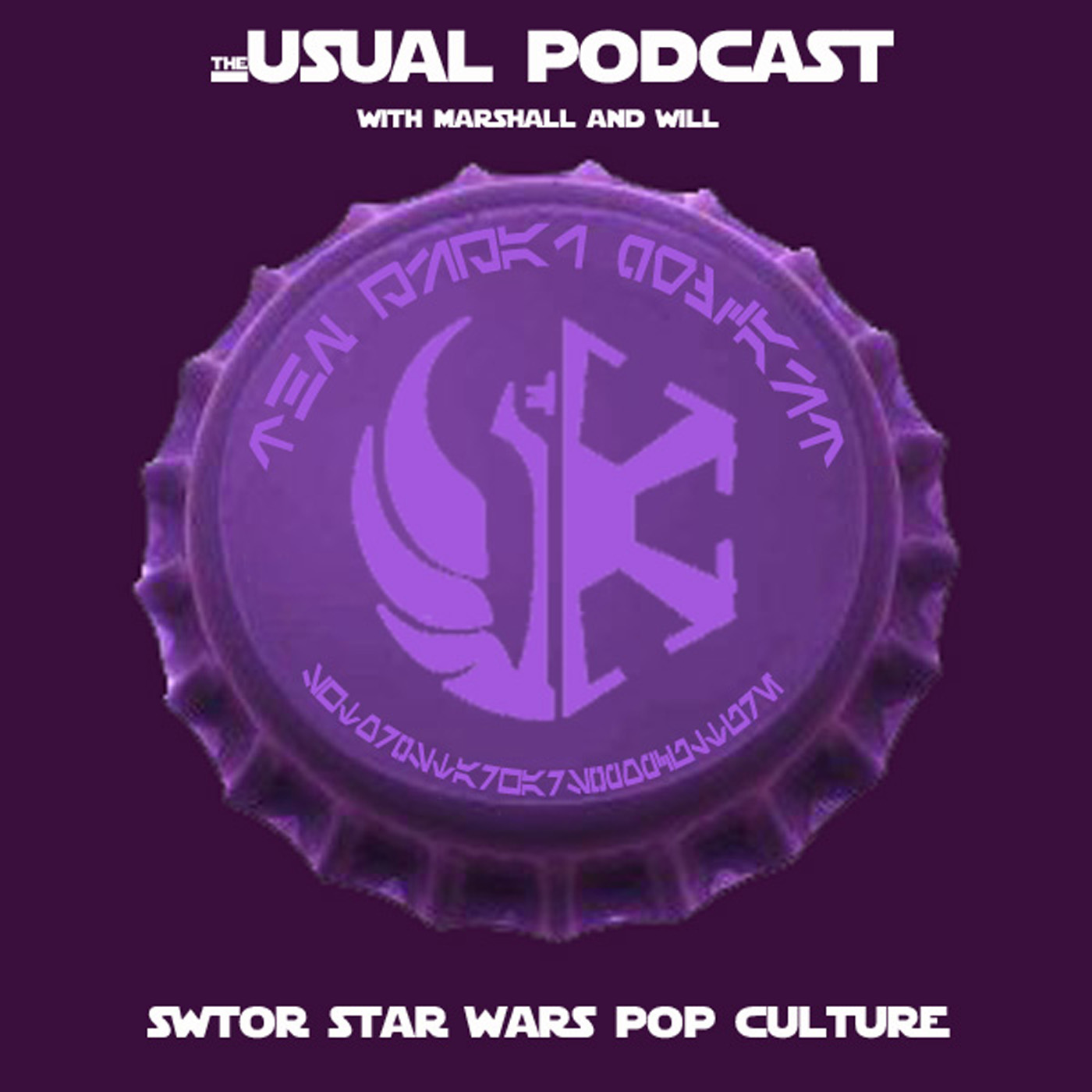 In the Star Wars: The Old Republic section of the show, Marshall, Will and John discuss the PTS changes, Extra Life 2018, SWTOR Unite, as well as Anthem and Fallout 76.
Links:
Community Shout-outs:
Extra Life! Wookie Alliance Schedule of Events
Support Wookie Alliance Extra Life Event!
News – Dev Tracker
Feedback: Ossus Daily Missions
5.10 PTS Refresh #1 (25th of October, 2018)
5.10 PTS Refresh #2 Operations Notes (30th of October, 2018)
What is the studio plans for adjusting Bolster in 5.10??
Discussion Topic
BioWare Games
BioWare's 'Anthem' Livestream Coming Soon
Link to Stream (Nov 1st at 1PM PST)
How 'Anthem's' Four Classes Work
Positive 'Anthem' Feedback Prompts EA to Increase Sales Forecast
SWTOR Refer-a-friend links at theusualpodcast.com on our about page
Star Wars Section - (30:00)
In the Star Wars section of the show, the guys discuss John William's visit to the hospital, and Star Wars Jedi: Fallen Order releasing next year.
Links:
Discussion Topics
Composer John Williams Hospitalized With Illness
Games
'Titanfall 3', 'Star Wars Jedi: Fallen Order' Could Release In 2019
The Usual Round-up - (37:15)
The guys discuss changes coming to Disney parks, Marvel shows to air of Disney's streaming service, Netflix shows, Game of Thrones, DC's Birds of Prey and more!
Links:
A Walk in the Parks
Disney
Marvel Super Hero Land Details Revealed for Disneyland
Indiana Jones Land May Be Coming to Disney World's Hollywood Studios
Disney Stream
Falcon & Winter Soldier
Falcon and Winter Soldier Getting a Limited Series on Disney Play Streaming Service
Scarlet Witch
Vision Rumored to Appear in 'Scarlet Witch' TV Show
Netflix
Luke Cage
Star Comments on Series' Cliffhanger After Cancelation
Castlevania
Stranger Things 11 originally supposed to die
Freeform
Freeform Developing Stephen King's 'Joyland' TV Series
News
'Discworld' TV Series 'The Watch' Headed to BBC America
Game of Thrones
'Game of Thrones' Prequel Possibly Gets Title
'Game of Thrones' Prequel Series Casts Naomi Watts as Lead
Casts Josh Whitehouse in Lead Role
'Game of Thrones' Creator George RR Martin Hints at Targaryen Prequel, Other Spinoffs
Reel Reviews
Movies
Avatar
Filming Wraps on First Two 'Avatar' Sequels
Universal Usual
DCEU
DC Comics' 'Birds of Prey' Confirmed to Be Rated R
SDCC
OPEN REGISTRATION FOR SAN DIEGO COMIC-CON 2019 SET FOR NOVEMBER 10
Outro and Contact Information
If you have comments or questions, you can find us at theusualpodcast.com, email us at theusualpodcast@gmail.com, and find us on Facebook, Pinterest, Google+, Instagram, Twitch, and YouTube. Marshall is @darthpops on Twitter, and Will is@iamwillgriggs. Please take the time to give us a positive rating on iTunes and Stitcher, and like and share us on the social medias! Use our link to try Audible free for 30 days! Like what we're doing? Become a patron HERE, or check out our support us page for more way to show your love.