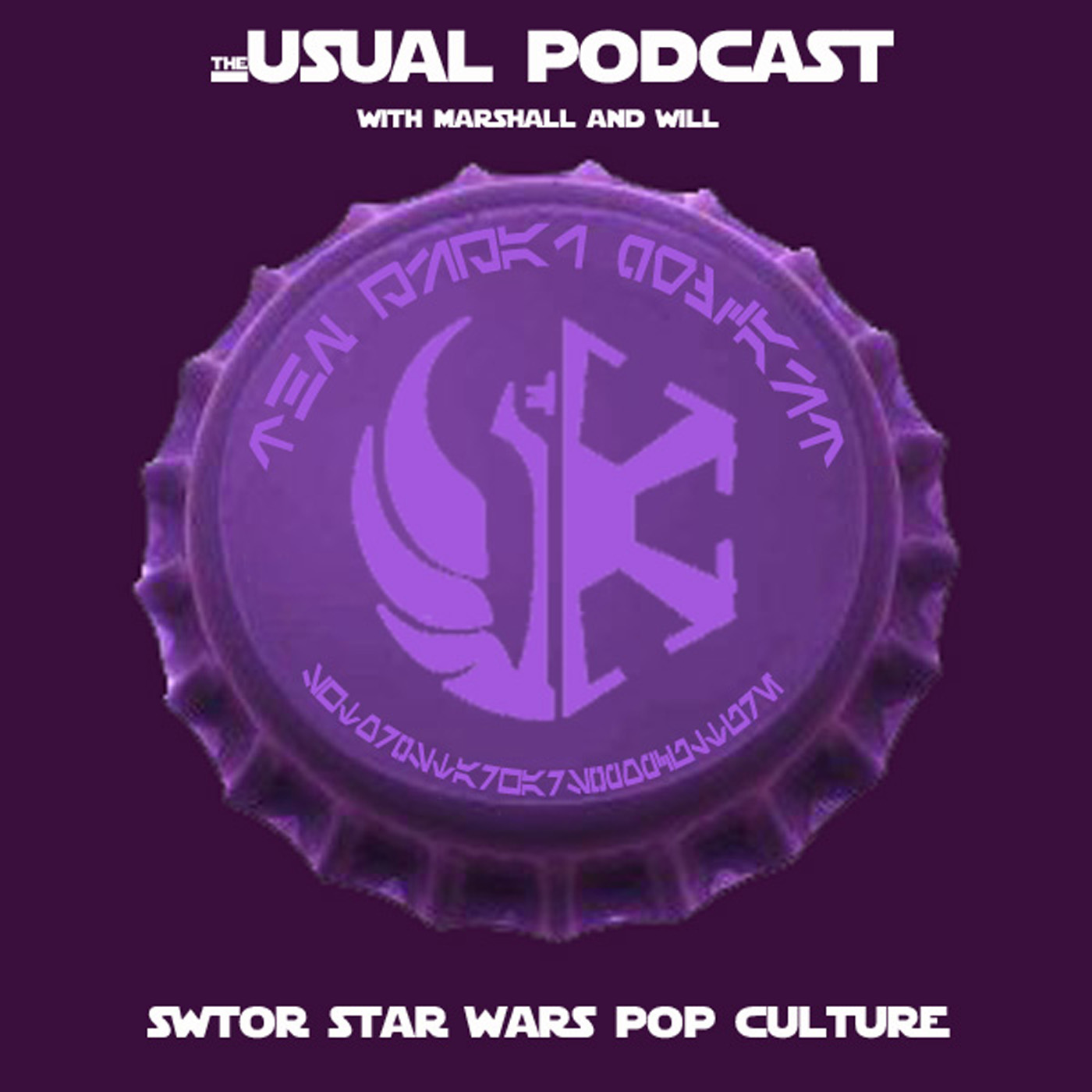 Before SWTOR, in light of episode 150, the guys briefly talk about the origins of The Usual Podcast. Then, in the Star Wars: The Old Republic section of the show, Marshall and Will discuss guild perks in Game Update 5.10, other guild changes and some general gaming news.
Links:
News – Dev Tracker
Update 5.10 and Alliance Alerts
Feedback: Ossus Daily Missions
Masterwork Gear Changes in 5.10
Discussion Topic
Guild Leveling and Guild Perks on PTS!
General Gaming
'Fallout 76' Has Millions of Active Players, Despite Negative Reviews
Upcoming Patch Will Add Push-to-Talk Chat and Respec Feature
BioWare's 'Anthem' Teases New Trailer For This Year's Game Awards
BioWare Teases Big 'Mass Effect' News
Sony's New Patent Hints At Possible Cartridge Format For PlayStation 5
SONY PLAYSTATION WILL SKIP E3 IN 2019
SWTOR Refer-a-friend links at theusualpodcast.com on our about page
Star Wars Section - (27:40)
In the Star Wars section of the show, the guys discuss stories from the original trilogy, the announcement of Galaxy of Adventures, and more!
Links:
Discussion Topics
Harrison Ford Recalls Drinking Scotch for 10 Hours on the Way to Film Hoth Scenes
Mark Hamill Once Suggested to George Lucas That Boba Fett Should Be Luke Skywalker's Mother
LISTEN TO JOHN WILLIAMS' NEW STAR WARS SCORE FOR GALAXY'S EDGE
Canon
Marvel Star Wars Comics
Marvel Officially Cancels 'Shadow of Vader' Miniseries
Films
Obi-Wan
Former UK Foreign Secretary Claims George Lucas Plans to Shoot Star Wars Spinoff Obi-Wan Kenobi Movie
TV
Galaxy of Adventures
Lucasfilm Announces 'Star Wars Galaxy of Adventures' Animated Series and Kid-Friendly YouTube Channel
The Usual Round-up - (37:32)
The guys discuss the death of Stan Lee, Cowboy Bebop, and news from all across pop culture TV, movies and more!
Links:
RIP
Gloria Katz, 'Howard The Duck' Writer & Producer and 'Star Wars' Script Doctor, Dies at 76
A Walk in the Parks
Disney
Disney and Fox Facing $1.75 Billion Lawsuit Over Theme Park
Crossing the Streams
Netflix
Reel Reviews
News
'Blade Runner' Anime Coming to Adult Swim
'Console Wars' Getting Its Own TV Series
News
'Kingsman 3' to Film Next Year
Universal Usual
Berlanti
Legends of Tomorrow
DCEU
Blue Beetle
LIVE-ACTION MOVIE IN THE WORKS
Marvel
Avenger: Infinity War
The Russo Brothers Considered Putting Marvel's Netflix Heroes Into Infinity War
Captain America
'Avengers 4' Director Says Chris Evans "Isn't Done" With Captain America
Secret Wars
'Avengers 4': The Russos Say They're Done With Marvel Until 'Secret Wars'
Sony
Spider-Man: Into the Spider-Verse
Launches With 100% Positive Score on Rotten Tomatoes
All Female Spider-Man Spinoff
Merchandise
Amazon's Ugly Christmas Sweater Sale is Affordable and Terrible
SMOD
Kevin Smith Addresses Why Ben Affleck's Not Talking to Him
Everything you need to know about Tell 'em Steve-Dave before you listen!
SDCC
Trailer Time
Star Wars Galaxy of Adventures
Outro and Contact Information
If you have comments or questions, you can find us at theusualpodcast.com, email us at theusualpodcast@gmail.com, and find us on Facebook, Pinterest, Google+, Instagram, Twitch, and YouTube. Marshall is @darthpops on Twitter, and Will is@iamwillgriggs. Please take the time to give us a positive rating on iTunes and Stitcher, and like and share us on the social medias! Use our link to try Audible free for 30 days! Like what we're doing? Become a patron HERE, or check out our support us page for more way to show your love.