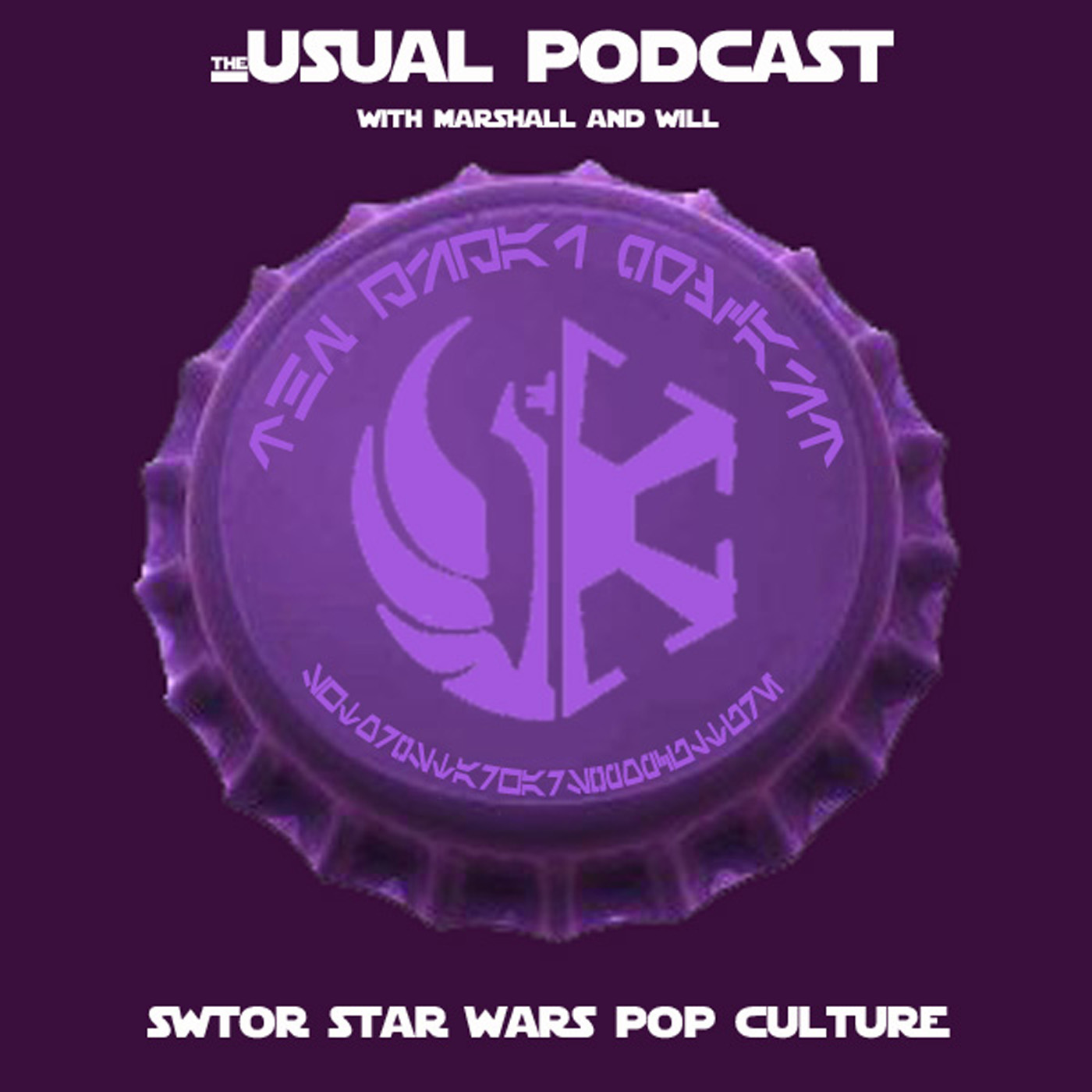 In the Star Wars: The Old Republic section of the show, Marshall and Will discuss their weeks in game, why there is no roadmap coming, and general EA news.
Links:
5.10.1 PTS Refresh #3 (24th of January, 2019)
Maintenance: January 29th, 2019
Avoid EA: The Fun Is About To End
EA defies Belgian loot box decision, setting up potential "gambling" lawsuit
Why Electronic Arts Stock Plunged 25% in 2018
SWTOR Refer-a-friend links at theusualpodcast.com on our about page
Star Wars Section - (21:25)
In the Star Wars section of the show, the guys discuss Episode IX news, Solo Oscar nominations, Disney+ news, and Galaxy's Edge news.
Links:
'Solo: A Star Wars Story' Scores Oscar Nomination
Star Wars Celebration Announces More Guests, Including Voices of Boba Fett and Ahsoka Tano
Canon
Films
Episode IX
'Star Wars: Episode IX' Set Photos Tease Snowy Planet
Anthony Daniels Shares Touching Goodbye for His Last Day
Richard E. Grant Teases His 'Episode IX' Role Is All-New Character
No 'Star Wars: Episode IX' Trailer on Super Bowl Sunday
Disney+ Live Action
The Mandalorian' Adds 'Batman v Superman' Stunt Coordinator
Galaxy's Edge
New Details Emerge About Disneyland's Plans to Improve Park Ahead of Galaxy's Edge Opening
Theme Park Receives Its Own Comic Series
Merchandise
Director J.J. Abrams Gets His Own Funko POP!
The Usual Round-up - (41:00)
The guys discuss all the latest news about streaming services, TV and casting news, Marvel news and much more!
Links:
A Walk in the Parks
Disney
ZOOTOPIA-Themed Land Heading to Shanghai Disneyland
Crossing the Streams
CBS All Access
Jordan Peele's 'The Twilight Zone' premieres on CBS All Access April 1st
Stephen King TV Series 'The Stand' Coming to CBS All Access
Disney Stream
'The Grimm Legacy' in the Works for Disney+
Netflix
Chris Evans and Tom Holland to Star in Netflix's Serial Killer Drama THE DEVIL ALL THE TIME
Reel Reviews
TV News
'Riverdale' Renewed for Season 4 by The CW
Ted Bundy's Old Residence Is Attracting Unwanted Sightseers
'Fuller House' Renewed for Final Season by Netflix
'Archer' Season 10 To Premiere In April
'LOST': ABC Open to Series Reboot
Casting
Rosario Dawson Cast In 'Zombieland 2'
Universal Usual
Marvel
Sean Gunn Assures Fans 'Guardians of the Galaxy Vol. 3' Is Still Getting Made
Disney Seeking to Replace Hugh Jackman as Wolverine in the MCU
Disney to Make Decision on Gambit and X-Force Movies
Marvel Female Superheroes Drama Not Moving Forward At ABC
Disney CEO Says 'Deadpool' Could Continue and More R-Rated Marvel Films Possible
Conventions
SDCC Early BIrd Hotel Sales on now
WONDERCON ANAHEIM 2019 HOTELS NOW AVAILABLE
Trailer Time Links:
Scary Stories to Tell in the Dark: Spot 1, Spot 2, Spot 3, Spot 4
Outro and Contact Information
If you have comments or questions, you can find us at theusualpodcast.com, email us at theusualpodcast@gmail.com, and find us on Facebook, Pinterest, Instagram, Spotify,  Twitch, and YouTube. Marshall is @darthpops on Twitter, and Will is@iamwillgriggs. Please take the time to give us a positive rating on iTunes and Stitcher, and like and share us on the social medias! Use our link to try Audible free for 30 days! Like what we're doing? Become a patron HERE, or check out our support us page for more way to show your love.