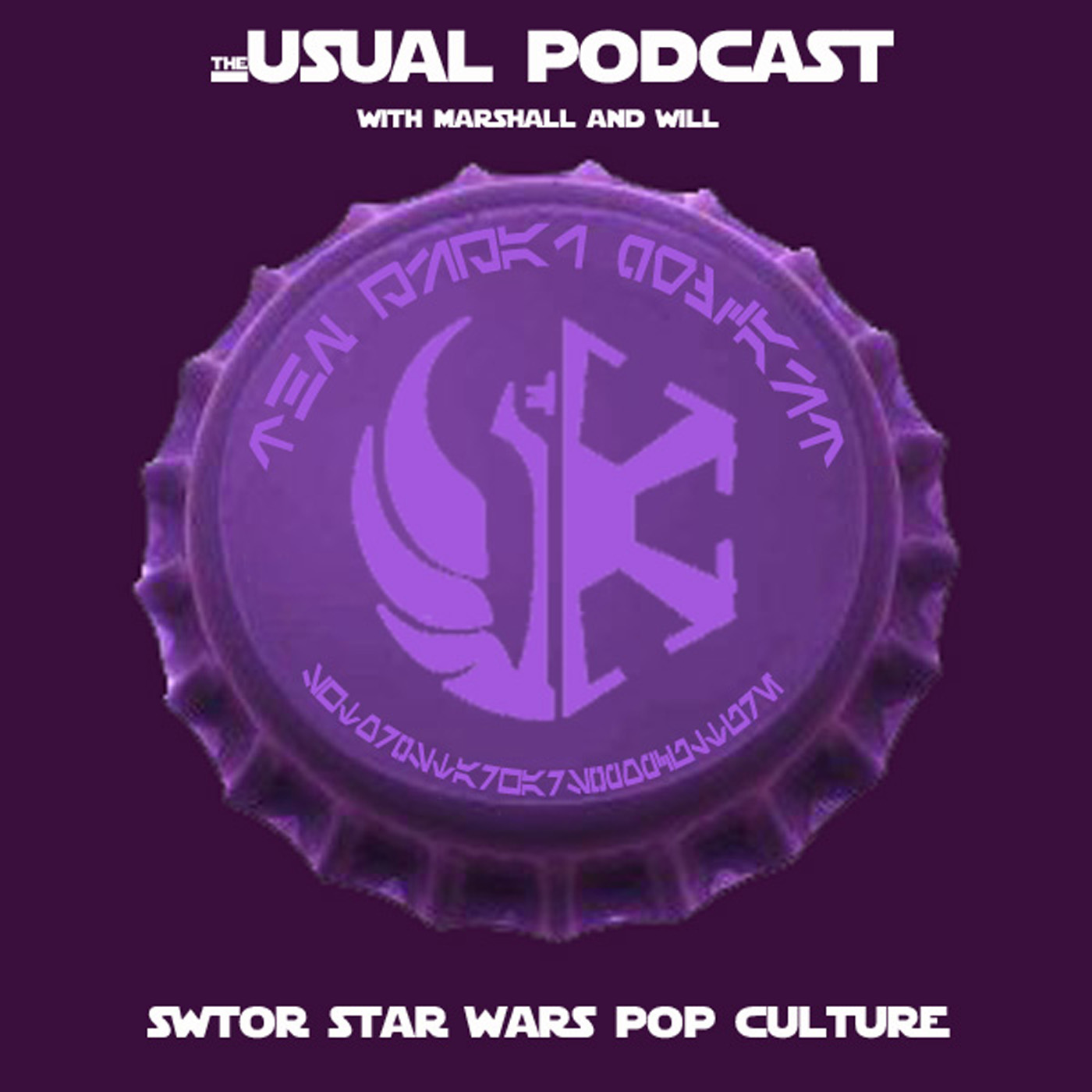 In the Star Wars: The Old Republic section of the show, Marshall and Will discuss Game Update 5.10.1 as well as some general gaming news.
Links:
News – Dev Tracker
Game Update 5.10.1 "The Wretched Hive"
Game Update 5.10.1 - Known Issues
252/258 Set Bonus not working??
Lag Spikes after the last pach
FYI: Restoration of lost Izax Kill / Timed Run Achievements is Incoming
Discussion Topic
Activision Blizzard lays off nearly 800 employees after 'record' 2018
Report: Nintendo Switch Will Add VR Support This Year
Original First-Run Copy of 'Super Mario Bros.' for NES Sold for Over $100,000
SWTOR Refer-a-friend links at theusualpodcast.com on our about page
Star Wars Section - (24:05)
In the Star Wars section of the show, the guys discuss Star Wars Celebration news, Episode IX news, and new Star Wars merchandise.
Links:
'Star Wars: The Phantom Menace' 20th Anniversary to Be Honored at Star Wars Celebration
Films
Episode IX
J.J. Abrams Announces Filming Has Wrapped
TV
News
UPDATED: Rian Johnson Leaves Planned Star Wars Trilogy
Resistance
Games
New 'Star Wars Jedi: Fallen Order' Details Are Coming
Merchandise
This Official 'Star Wars' Han Solo Hoth Replica Jacket is Actually Affordable
The Usual Round-up - (35:00)
The guys discuss The Monkees, Disney Parks news, TV and movie news, DCEU and MCU news, and more!
Links:
Discussion
A Walk in the Parks
Disney
Disney Parks Now Selling Alcoholic Popsicles
Walt Disney World Announces New Play Pavilion for Epcot
Universal
Universal Orlando's The Wizarding World of Harry Potter Announces New Ride
Crossing the Streams
Netflix
'The Punisher' and 'Jessica Jones' Cancelled by Netflix
Reel Reviews
TV
Showtime's 'Halo' Series Lands New Director of 'Black Mirror' Fame
Kevin Smith and Joe Manganiello Promote Their 'The Big Bang Theory' Appearance
Casting
Chris Hemsworth to Play Hulk Hogan in Netflix Biopic
'Aquaman': Black Manta Actor Wants to Play Booker T in Hulk Hogan Movie
'Aquaman' Star Jason Momoa Reportedly in Talks to Join 'Dune' Reboot
Release Dates
Movies
'Fast & Furious 9' Delayed by Universal
'American Girl Doll' Movie In The Works
Universal Usual
DCEU
'The Suicide Squad': Harley Quinn Might Be In James Gunn's Movie After All
Batman Fans React to Ben Affleck Officially Retiring His Cape and Cowl
Marvel
Gwyneth Paltrow Is Leaving the Marvel Cinematic Universe
SMod
Smith's Animated Howard the Duck
Merchandise
New 'The Big Bang Theory' Funko Pops Arrive for the Final Season
'The Office' Funko Pop Figures Are Finally a Reality
Conventions
THE SAN DIEGO SYMPHONY ANNOUNCES 2019 SAN DIEGO COMIC-CON CONCERTS
Outro and Contact Information
If you have comments or questions, you can find us at theusualpodcast.com, email us at theusualpodcast@gmail.com, and find us on Facebook, Pinterest, Instagram, Spotify,  Twitch, and YouTube. Marshall is @darthpops on Twitter, and Will is@iamwillgriggs. Please take the time to give us a positive rating on iTunes and Stitcher, and like and share us on the social medias! Use our link to try Audible free for 30 days! Like what we're doing? Become a patron HERE, or check out our support us page for more way to show your love.