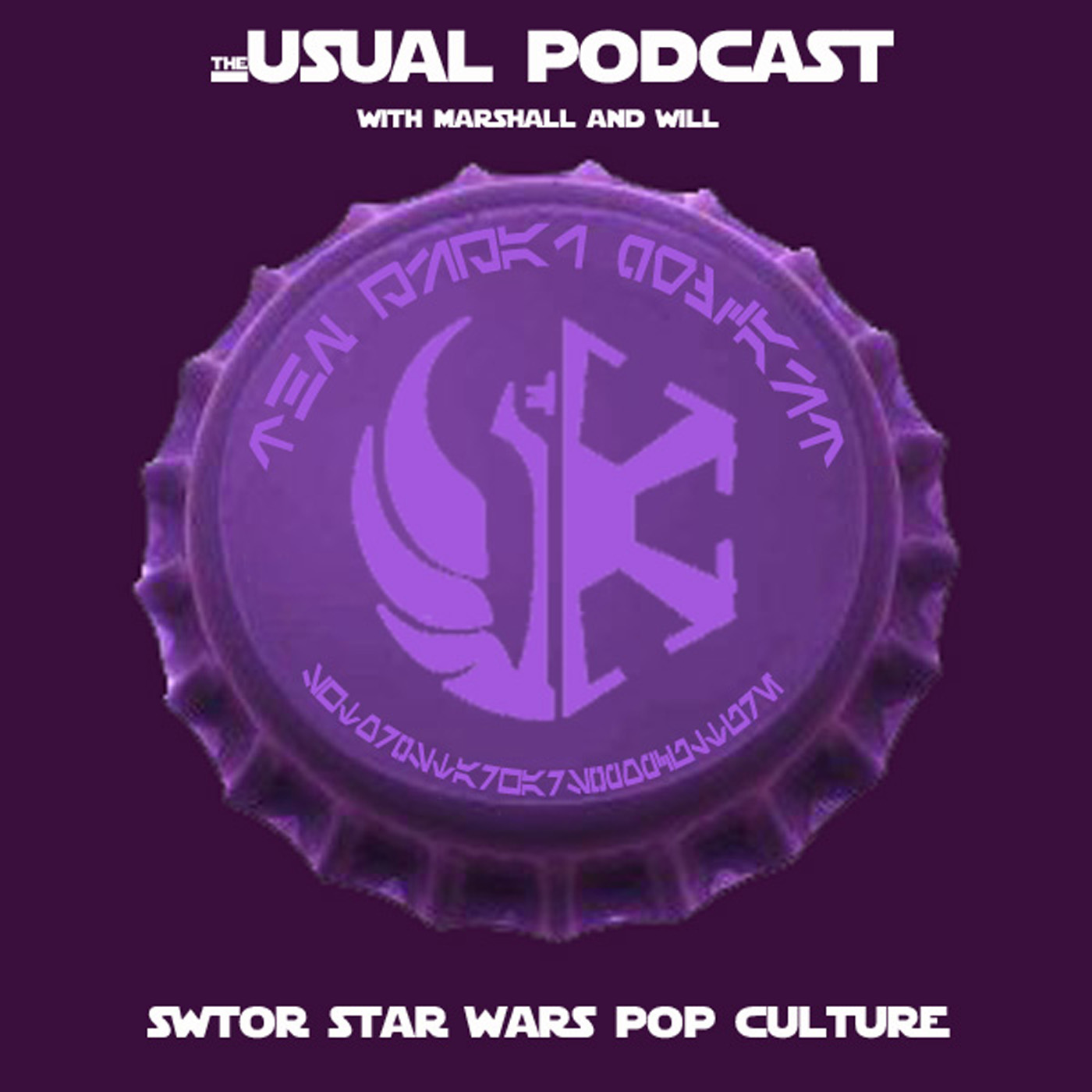 In the Star Wars: The Old Republic section of the show, Marshall and John discuss the weeks in game,  the latest SWTOR news, and the upcoming Game Update 5.10.2: Heralds of Victory.
Links:
Community Shout-outs:
Swtorista and the SWC Fan Table
News – Dev Tracker
Why does Lana have FOUR different face models?
World Firsts and Guild XP Changes
Hutt Ball type maps pops 2 out of 3 maps constantly
Please tell us the exact day/time that guild perks rotate
Discussion Topic
Let's Discuss Ranked PvP Ideas...
'Heralds of Victory' Game Update!
Preview Window Available on PTS!
SWTOR Refer-a-friend links at theusualpodcast.com on our about page
The Usual Round-up - (25:15)
The guys discuss the latest news from Galaxy's Edge, movie trailers, Captain Marvel and a lot more.
Note: Minor Captain Marvel spoilers around 1:10:00.
Links:
Discussion
Secrets of the Empire VR in Las Vegas
News
New trailers
A Walk in the Parks
Disney
Marvel Land
Galaxy's Edge
Galaxy's Edge to Open May 31 at Disneyland Resort, August 29 at Disney's Hollywood Studios
Disney Dish Episode 208: Press Preview of Black Spire Outpost
What You Can Eat and Drink in STAR WARS: Galaxy's Edge
What You Can Buy in STAR WARS: Galaxy's Edge
Building lightsabers at Disney's Star Wars land sounds incredible
Crossing the Streams
DC Universe
Disney +
DISNEY+ Will Include Every Disney Feature Film
'The New Mutants' Likely Heading to Disney+
Kevin Feige Promises Disney+ Shows Are Directly Connected to Marvel Cinematic Universe
Netflix
Stranger Things Season 3 new Trailer
Warner
GREMLINS Animated Series Coming to Warner Streaming
Reel Reviews
TV
New Orphan Black series in the works from AMC
HBO Officially Reveals How Long Each Final Episode of 'Game Of Thrones' Will Be
Universal Usual
DCEU
James Gunn's SUICIDE SQUAD Will Be a "Total Reboot"
Marvel
GotG3
Marvel Didn't Meet With Any Replacement Directors for James Gunn
Kevin Feige Says Captain Marvel Will Lead the Marvel Cinematic Universe
Outro and Contact Information
If you have comments or questions, you can find us at theusualpodcast.com, email us at theusualpodcast@gmail.com, and find us on Facebook, Pinterest, Instagram, Spotify,  Twitch, and YouTube. Marshall is @darthpops on Twitter, and Will is@iamwillgriggs. Please take the time to give us a positive rating on iTunes and Stitcher, and like and share us on the social medias! Use our link to try Audible free for 30 days! Like what we're doing? Become a patron HERE, or check out our support us page for more way to show your love.