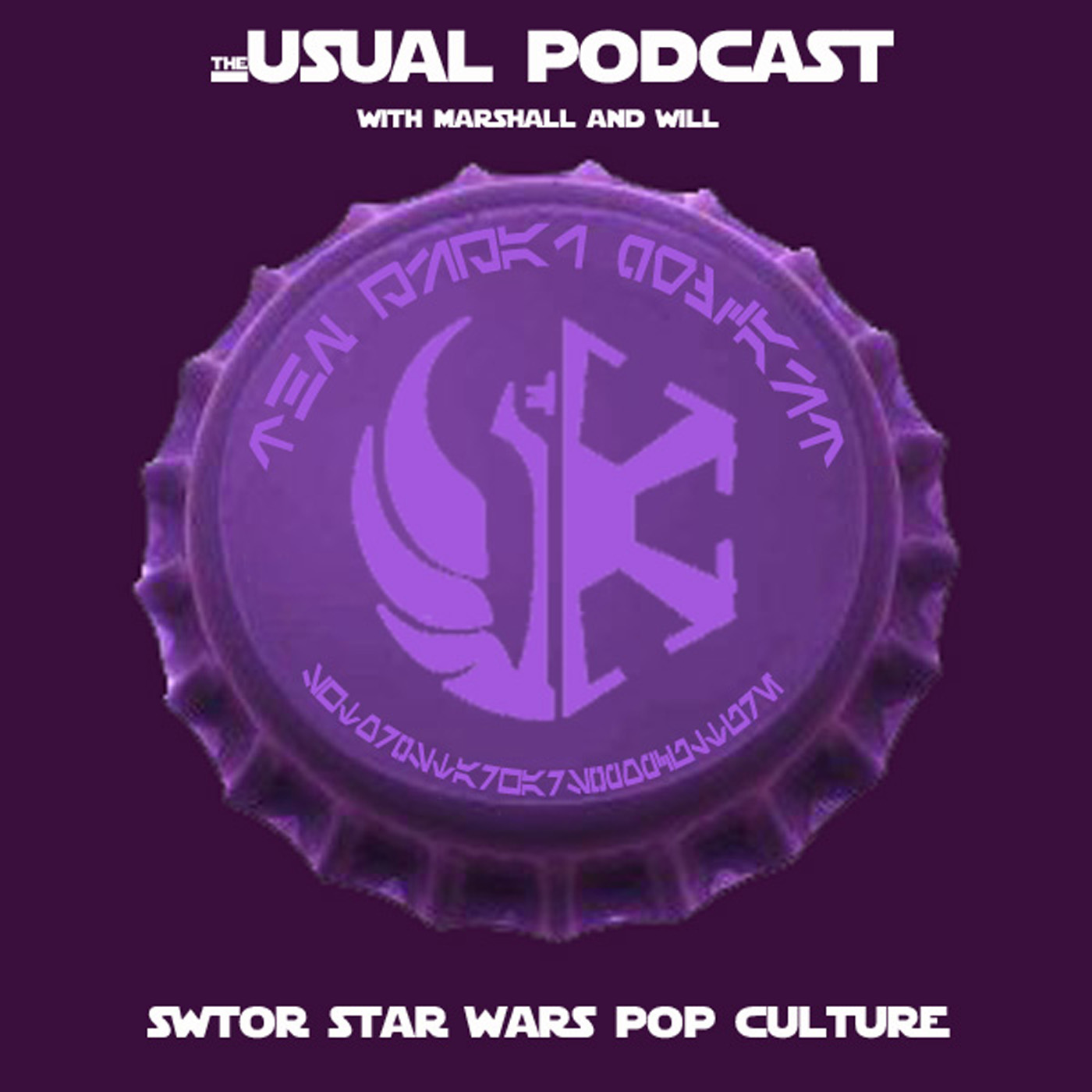 In the Star Wars: The Old Republic section of the show, Marshall and Will discuss guild and community news as will as the launch of Game Update 5.10.
Links:
SWTOR Fan Booth at Celebration
Jedi Under Siege: State of the Galaxy
SWTOR Refer-a-friend links at theusualpodcast.com on our about page
Star Wars Section - (17:00)
In the Star Wars section of the show, the guys discuss the new Thrawn novel cover, Episode IX non-news, the recasting of Leia in Resistance, live-action TV show news, and more!
Links:
Canon
Books
'Thrawn: Treason' Novel Cover and Details Unveiled
Films
Episode IX
Andy Serkis Teases "Anything Can Happen" About Snoke's 'Episode IX' Return
First 'Episode IX' Footage Potentially Coming This Month
Rumored to Finally Feature the Knights of Ren
Rey to Reportedly Repair Luke's Lightsaber for 'Episode IX'
Ed Sheeran Reportedly Filming 'Episode IX' Cameo
TV
Resistance
Appears to Have Re-Cast Leia Organa Following Controversy
Rogue One Prequel
'Rogue One' Prequel Series Taps 'The Americans' Producer as Showrunner
The Mandalorian
Gamorrean Guards Spotted On 'The Mandalorian' Set
Games
'Star Wars: Jedi Fallen Order'
Coming In Late 2019, Alongside 'Episode IX'
The Usual Round-up - (28:45)
The guys discuss streaming service news, the Game of Thrones teaser, Disney news, and more!
Links:
Crossing the Streams
Disney+
'Sister Act 3' in Development for Disney's Streaming Service
Reel Reviews
News
Golden Globes 2019 Award Nominations Add In Anime
GAME OF THRONES' FINAL SEASON GETS ITS FIRST TEASER
Casting
'Bad Boys 3' Bringing Back Joe Pantoliano's Police Captain
Universal Usual
Disney
Kim Possible
'Kim Possible' Fans in Uproar Over No Naked Mole Rat in Live-Action Trailer
Marvel
Blade
Wesley Snipes' Teeth Are "Still Sharp" for a New 'Blade' Movie
Avengers 4
NASA OFFERS ADVICE TO SAVE TONY STARK IN AVENGERS: ENDGAME
SMod
Smith reacts to Avengers 4 Trailer
Merchandise
Miles Morales' Spider-Man Gets His Own Air Jordan Shoe
Trailer Time
Godzilla: King of the Monsters
Game of Thrones Season 8 Teaser
Outro and Contact Information
If you have comments or questions, you can find us at theusualpodcast.com, email us at theusualpodcast@gmail.com, and find us on Facebook, Pinterest, Google+, Instagram, Twitch, and YouTube. Marshall is @darthpops on Twitter, and Will is@iamwillgriggs. Please take the time to give us a positive rating on iTunes and Stitcher, and like and share us on the social medias! Use our link to try Audible free for 30 days! Like what we're doing? Become a patron HERE, or check out our support us page for more way to show your love.