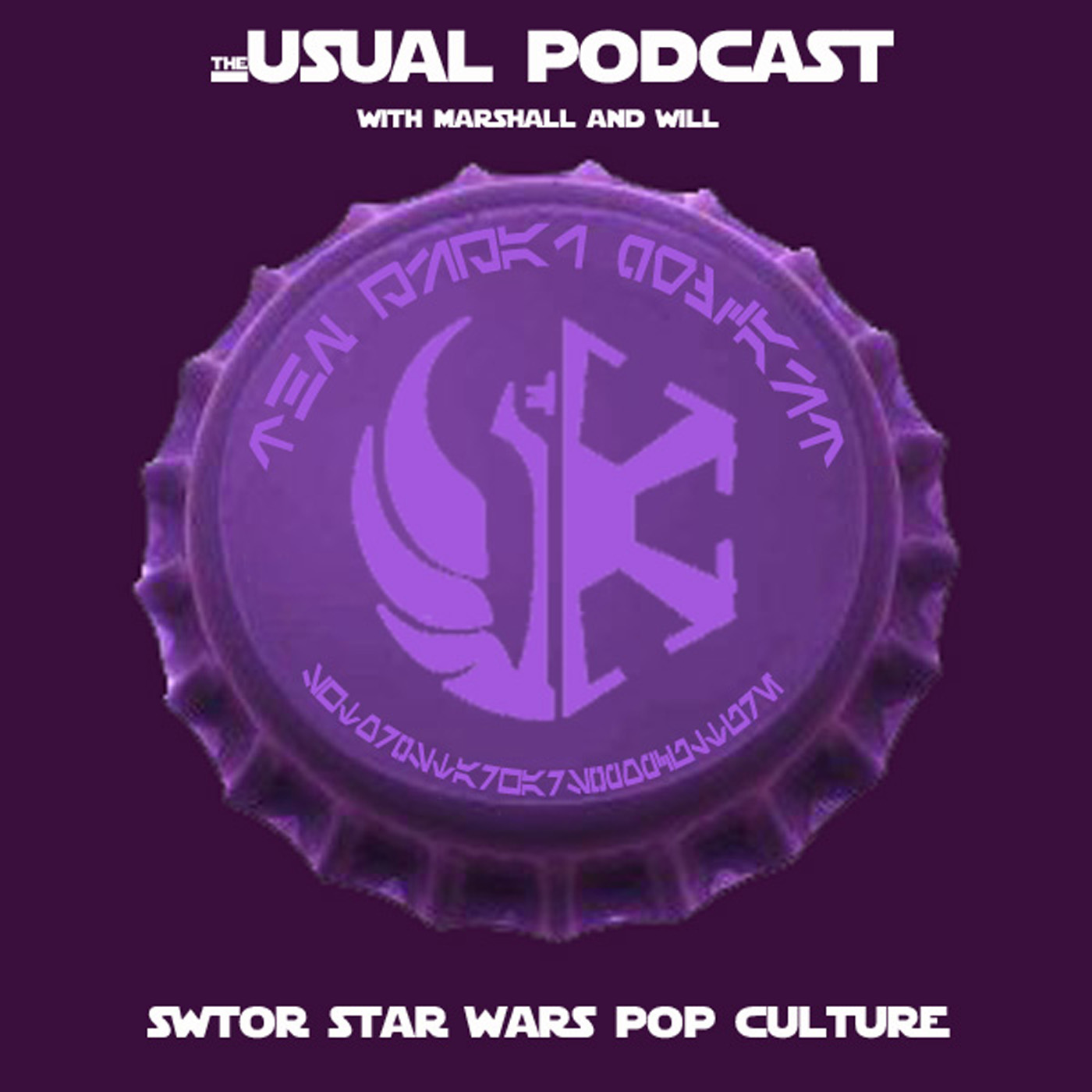 In the Star Wars: The Old Republic section of the show, Marshall and Will discuss their last few weeks in game, PUCT 3 and their time in San Diego, SWTOR Game update 5.9.2a, and their experiences with 5.9.2.
Links:
Community Shout-outs:
News – Dev Tracker
Stronghold Area Lag Temporary Fix
Upcoming Maintenance: Week of 8/13
Discussion Topic
SWTOR Refer-a-friend links at theusualpodcast.com on our about page
Star Wars Section - (23:50)
In the Star Wars section of the show, the guys discuss Star Wars comics, books and parks news, as well as Episode IX news, their thoughts on casting, merchandise and more!
Links:
Discussion Topics
Star Wars: Boba Fett Actor Retiring From Conventions
'Star Wars': Han Solo's Jacket Could Sell for $1.3 Million at Auction
Star Wars Fan Awards-Submission Deadline 9/27
Star Wars Land Update with Aerial Photos
Canon
Marvel Star Wars Comics
New Issue of 'Star Wars' Comic Details Mysterious 'Empire Strikes Back' and 'Rogue One' Connection
New 'Darth Vader' Comic Offers Connections to Star Wars Prequels
Books
Solo Novelization
'Solo: A Star Wars Story' Novelization Explains L3-37's Controversial Fate
Films
Disney Wants 'Star Wars' TV Rights Back After Selling to Turner
Episode IX
JJ Abrams Shares Touching Message and Photo to Announce 'Star Wars: Episode IX' Production Has Begun
'Star Wars Episode IX': Is Richard E. Grant Teasing Thrawn Role?
'Star Wars: Episode IX' Actor Confirms He Isn't Playing Thrawn
'Star Wars: Episode IX' to Reportedly Wrap Filming in February 2019
'Star Wars: Episode IX' Title Theory Connects Back to Original Film
TV
Plot Details of Jon Favreau's 'Star Wars' Series Reportedly Revealed
Resistance
Merchandise
LEGO's Massive Cloud City Star Wars Set Has 18 Minifigures
The Usual Round-up - (52:50)
The guys discuss news from the various streaming services, news from their favorite universes, TV/movie news, and so much more!
Links:
News
MoviePass Facing Class Action Lawsuit
MoviePass Now Limiting Subscribers to Specific Movies on Specific Days
Michael Caine Definitively Explains the Ending of 'Inception'
'The Big Bang Theory' To End Run After 12 Seasons On CBS With "Epic Close"
Crossing the Streams
DC Universe
DC UNIVERSE ANNOUNCES PRICE, LAUNCH DATE, AND MORE DETAILS
DC Daily
Kevin Smith to Host Premiere of New DC Universe Daily Show
Titans
'Titans': Robin Drops an F-Bomb in First Trailer for New Series
Doom Patrol
'Doom Patrol' Series Coming to DC Universe Streaming Service
Swamp Thing
'Swamp Thing' TV Series in the Works for DC Universe from James Wan
Disney Stream
Star Wars
Marvel
Marvel Movies Will No Longer Be Released on Netflix Starting with 'Captain Marvel'
Netflix
Marvel Series
'Jessica Jones' Creator Leaving the Series to Sign With Warner Bros. TV
Hulu
Hulu Renews Stephen King Series 'Castle Rock' for Season 2
Amazon
'The Romanoffs' New Trailer Introduces All-Star Cast for Matthew Weiner's Amazon Series
Walk in the Park
Disney Parks
Marvel Fans Discover Awesome 'Avengers: Infinity War' Easter Egg at Disneyland
Mickey: The True Original Exhibition to Celebrate Mickey Mouses's 90th Anniversary
Universal Usual
Berlanti
Crossover
Batwoman Will Be in the Next Arrowverse Crossover on The CW
Why 'Batwoman' Will Take Place on the Same Earth as 'Supergirl'
Arrowverse Crossover To Feature Superman, Lois Lane
DCEU
Green Lantern
Tom Cruise Reportedly Frontrunner to Play Green Lantern
Wonder Woman 1984
Hans Zimmer Reportedly Set to Score 'Wonder Woman 1984'
Disney
Disney's Live-Action 'Pinocchio' to Film Next Year
'Pirates of the Caribbean 6' Rumored to Be in the Works
Disney D23 Expo 2019 Ticket Details Announced
Fox
Disney Will Reportedly Release FOX X-Men Movies That Are Completed or in Production at Time of Acquisition
X-Men: Dark Phoenix-2/14/19
'Deadpool 2' Director David Leitch Rumored to Return for 'Deadpool 3'
Marvel
GotG3
Marvel and Disney Will Not Rehire James Gunn for 'Guardians of the Galaxy Vol. 3'
Wizarding World
Natalie Dormer Announced as 'Harry Potter: A History of Magic' Narrator
SMod
Mark Millar Announces New 'Hit-Girl: The Golden Rage of Hollywood' Series From Kevin Smith
Trailer Time
Nutcracker and the Four Realms
The Happytime Murders (RED BAND)
'Iron Fist' New Season 2 Trailer
Outro and Contact Information
If you have comments or questions, you can find us at theusualpodcast.com, email us at theusualpodcast@gmail.com, and find us on Facebook, Pinterest, Google+, Instagram, Twitch, and YouTube. Marshall is @darthpops on Twitter, and Will is@iamwillgriggs. Please take the time to give us a positive rating on iTunes and Stitcher, and like and share us on the social medias! Use our link to try Audible free for 30 days! Like what we're doing? Become a patron HERE, or check out our support us page for more way to show your love.